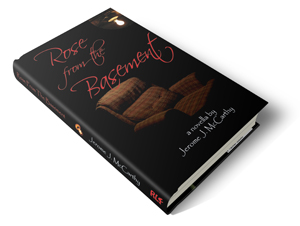 Rose From The Basement by Jerome J. McCarthy
ISBN # 978-0-9800083-4-0
Edith Rose Hughes is a caring, intelligent, charismatic, philanthropist who is well known in her community. She birthed and nurtured a successful cosmetics company from a dream, to a multi-million dollar venture. Headquartered on the outskirts of her small hometown, the accomplished CEO of Rozi Cosmetics feels a void from her troubled past which she masks using a workaholic cloak.
Rose finds herself in an impetuous position as a mentor to Candice – an athletic teenage girl who is at a crossroads in her life. Hurt from family drama and torn because of relationship issues with her boyfriend, Candice contemplates a different path which could alter her purpose.
Rose From The Basement is a novella about the complexities of female relationships with men, women, parents, siblings and co-workers. It is an encouraging, empowering story about making wise choices, recovering from bad decisions, forgiving yourself, knowing your worth and not compromising to fulfill your dreams! Get your copy at Amazon.com today!