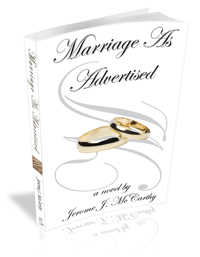 Marriage As Advertised by Jerome J. McCarthy
ISBN # 978-0-9800083-9-5
Marriage as Advertised is a contemporary story of a young married couple who reached a fork in their relationship. On paper, they are the perfect advertisement for the All-American blue collar family, however the walls of their home tell a different story. From love & certainty, to discouragement and confusion; both have needs in their relationship that are no longer being met as the romantic element has dissipated. When faced with temptation, will filling this temporary void destroy any hope of reconciliation?
This novel is a glimpse into a troubled union, and shows how communication lines between a man and woman can get lost in translation. Journey with this couple as they reach a defining point in their marriage. Relationships will be born, family secrets will be uncovered; temptation will lure them, tragedy will test them. Will April and Jon have what it takes to turn their relationship around, or will they continue to conceal their problems with the pretense – Marriage As Advertised. Get your copy today at Amazon.com
!